June 4, 2005 at Lake Hudson State Park
Honoring the Pricipals involved in making Lake Hudson a DARK SKY PRESERVE and
dedicating the Kiosk on Saturday June 4th was a special event! Without the hard work,
foresight and determination of these men, there would be no Dark Sky Preserve in
Michigan. Wes Boyd and Jim Whitehouse were the original movers and shakers in
making this idea a reality. To read Wes's account of the idea and development, please
click
HERE
.
(The club webpage telling of the story is available
HERE
)
When the ten year anniversary was looming, and the amateur community realized
that the law creating the Park as "Dark Sky" could easily be repealed, Bill Buckingham
was unstoppable in his resolve to make sure the Michigan legislature would take the
right action and make this Park a permanent Dark Sky Preserve. He spent a lot
of time and energy talking to folks, driving to Lansing on dates that he knew there
was some action coming up, and making sure folks knew where things stood.
Tim Bauer of the State of Michigan DNR has been a great help through the years
and has always supported the amateur astronomy community. He has attended
several meetings of the Amateur Astronomers of Jackson and kept us on top of things
which may affect our enjoyment of the Park. He was with us 100% when we
approached him about erecting some kind of signage to let visitors to the park see
what this "Dark Sky" thing is all about. Working with Tim was an honor for us.
Below are some photos of the event with a few words of description.
Looking east at the three sided Kiosk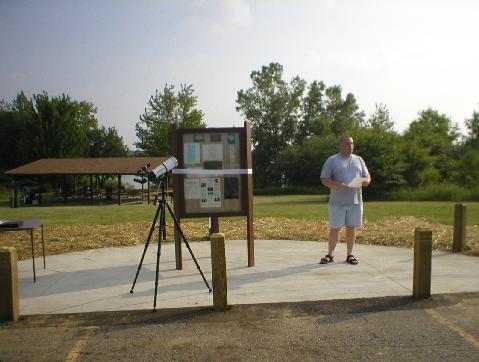 Club president Ron Robinson making introductions
Jim Whitehouse and Wes Boyd giving the crowd an account
of the way the project got it's start.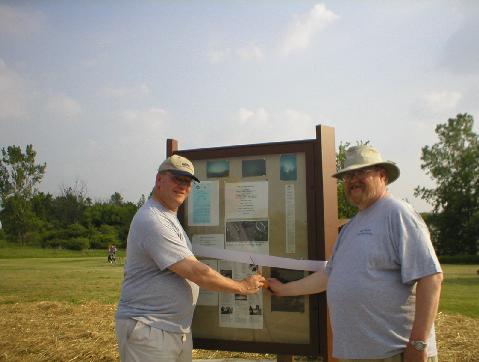 Cutting of the ceremonial ribbon!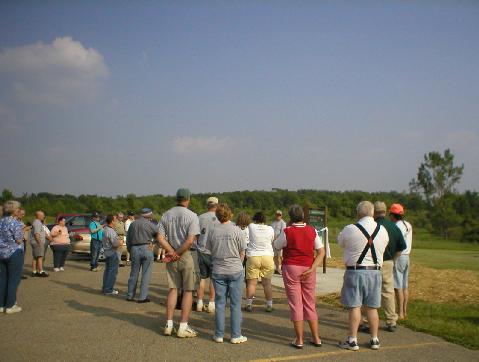 There were amateurs from several clubs on hand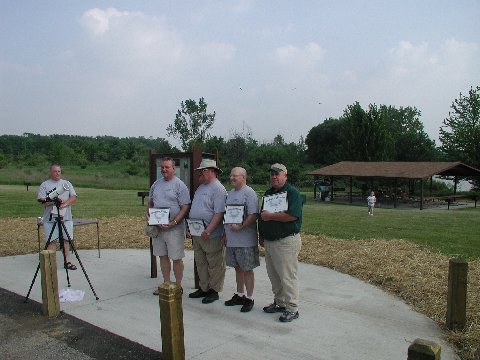 Ron Robinson presented Certificates of Honor to
Jim Whitehouse, Wes Boyd, Bill Buckingham, & Tim Bauer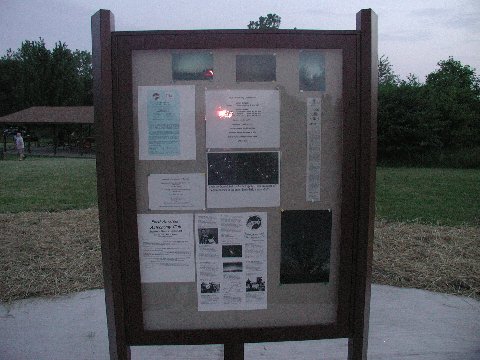 The north side of the Kiosk is for the amateur community to
use as a forum for getting out information to the public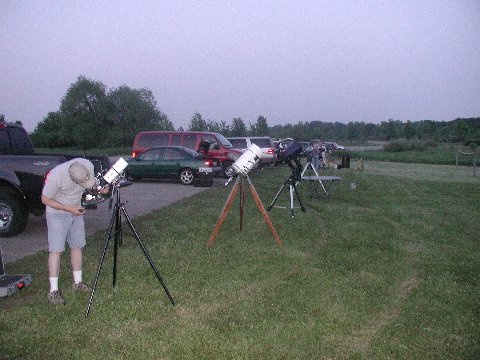 A picnic followed the ceremonies, with a stargaze following that.
The skies were favorable and many stayed until well after dark!
Back to the CURRENT page